11 tags
12 tags
Watch
i finally got my hands on footage from geographies #1, which happened back in february. here is one piece from the performance. it feels a little strange to put it here without the context of the whole show, but i guess that's how it goes. i'm playing vibes, counterfeit madison is dancing. we're at feverhead in february 2013.
It's hard to find anything to say about life... →
The "crazy busy" existence so many of us complain about is almost entirely self-imposed.
11 tags
6 tags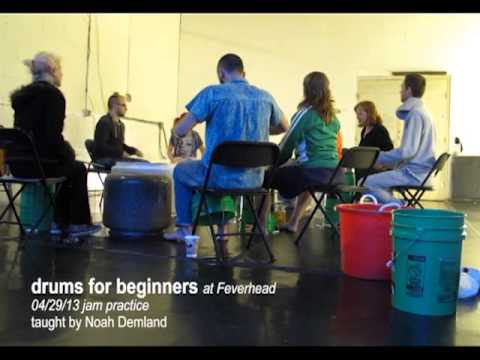 16 tags
Another piece using recordings of Lisa...
13 tags
10 tags
6 tags
I saw the Breeders in Cincinnati on Wednesday...
8 tags
i'm trying to get back into the habit of...
8 tags
6 tags
assorted metals, oddly-timed loops, and something...
9 tags
i want to be writing music, but it's not...
6 tags
i haven't done any impromptu recording in awhile,...
7 tags
why i compose.
i was just perusing Anti-Social Music's submission guidelines, falling madly in love, and thinking about what i would say if i wrote a haiku about why i compose. there are many reasons of varying seriousness, but the main one is this: growing up a classically-trained percussionist, and then going to college and graduate school for music, i was led to believe that composers were magical dead...
6 tags
"Not just in wartime but especially in wartime, and not just in hard economic times but especially in hard economic times, the arts get dismissed as 'sissy'. Dance gets dismissed as craft, creativity gets dismissed as inessential, to the detriment of our country.  And so when we fight for dance, when we buy art that's made by living American artists, when we say that even when you cut education to...
erezhenya asked: Anywhere I can listen to Geographies?
14 tags
6 tags
zines and percussion.
zine pages are coming off the printer again. come get yourself a copy and see the concert that goes with it.
3 tags
"everyone's got their own version of...
9 tags
12 tags
9 tags
1 tag
Sadybusiness: unbornwhiskey replied to your post:... →
gaysagainstgaga: sadybusiness: I don't think we can just say "when the lyrics are bad, they don't matter, and when they're good, they do." … I'm fine if we say it's not her job. Because it's literally not: Her job is to be a pop star. Her job is to be palatable to a huge audience. That relies on playing to some (I think) oppressive conventions of femininity, it relies on being excruciatingly...
Listen
Lies Writers Tell Themselves →
I do not think it would be unreasonable to substitute "composer" for "writer" in most of these examples. nprmusic: Since I often get requests about how to get into the "music writing" game, I like to point out what other smart writers (from all styles and beats) have offered when it comes to both "getting that paper" as well just getting things down on paper. Alexander...
8 tags
in threes.
"One chord is fine. Two chords are pushing it. Three chords and you're into jazz." - Lou Reed I have this funny little habit of creating these three-piece sets, totally unintentionally, and then going back later and realizing I've done it. The latest one is a set of three pieces for vibraphone and (real/fake) drums, all with two chords, all with titles that start with the letter S.
5 tags
Drum machine beat, lots of vibraphones, some of it...
5 tags
Vibraphone, some of it with effects, and a drum...
3 tags
"In today's more vibrant version, though, the artist himself is the spectacle, the subject of the tour guide. His primary job is not really to produce art but to participate in a "scene"—in an act that is put on for well-heeled spectators. Indeed, this act is essential to the vibrant: in order to bring the economic effects that "the arts" are being counted upon to bring—attracting and...
8 tags
6 tags
8 tags
3 tags
in praise of sketchbooks.
sometimes, you have to write some music for something, but everything you write is terrible. then, you realize you already wrote the perfect thing for your purposes, and all you have to do is pull it out and dust it off a little bit. this is why we keep sketchbooks, people.
4 tags
14 tags
9 tags
9 tags
i'm having fun lately with my guitar,...
8 tags
trash-picked vintage toy xylophone, triangle, and...
9 tags
Independents.
If you're going to Independent's Day, I'll be playing a couple of times: first, at 1:00 with They Might Be Dancers on the Performing Arts stage, and then I'm drumming with The Quinn Essentials at 2:55 on the Pearl Alley stage. Independent's Day is always a good time.
11 tags
9 tags
a little cloudy sketch to get the wheels churning....
11 tags
a question.
attention, artists of all kinds: i want to pick your brains a little bit. what are some general habits and/or values of successful (however you define that) and productive artists?
9 tags
16 tags
and now, the grand finale to the chromatic cricket...
10 tags
for some reason, crickets love my apartment;...
3 tags
11 tags
Watch
About two months ago, I was invited to play in a recording session on an album of spoken word poetry. I like to improvise music, and it sounded like a worthwhile project, so I agreed to do it. The weekend of the session was one that had been a little frustrating, artistically, and was in the middle of busy-crazy time at work. At times like that, it's really easy to say no to things, or to...